Experienced and
Skilled Physicians
OCWMG is home to some of Orange County's most respected obstetricians and gynecologists. Many of our doctors have been providing care for women in the Saddleback Valley for over 30 years. The experience and vast knowledge of our 20 physicians allow us to provide exceptional care for our patients. The physicians use collaborative resources to implement advanced treatments. As a patient at OCWMG, you can guarantee that you are being cared for by a team of experts.
Warm and
Personalized Care
We provide warm and personalized care by paying special attention to the needs of our patients. Our newly renovated office is designed to make our patients feel comfortable. We are committed to developing relationships that foster open communication and efficient collaboration through all stages of a woman's life.
Comprehensive Services
OCWMG offers comprehensive health care to women from adolescence through late adulthood. We remain current on the leading edge of gynecological medical advances and obstetrical care. We offer services and techniques that provide you the maximum comfort and the quickest recovery. We are committed to optimum health for our patients. Our obstetrical services include Preconception, Family Planning, Infertility, Prenatal Care, Natural Childbirth and Vaginal Birth After Cesarean (VBAC). Our gynecology services include Annual Well Woman Exams, Family Planning, Menopause Management, Hormone Replacement Therapy, and Urinary
Incontinence Management.
Apart from OB/GYN care, OCWMG offers complimentary services including in-office diagnostic ultrasound, mammography screening, bone density screening, laboratory services, whole body composition analysis, medical nutrition therapy, and weight loss programs.
Advanced Technology
Our providers are at the forefront of advanced surgical techniques including minimally invasive laparoscopic surgery to treat female gynecological conditions.
With a practice this size, our group relies on the technology of electronic medical records (EMR) to assist with office efficiency. Our EMR system facilitates easy communication between doctors and patients.
Our website features online and interactive services for our patients, such as the Patient Portal. You can make an appointment, request a prescription refill, view lab results, or make a payment. You can even email your questions and concerns to your provider.
Convenient Locations
OCWMG offers six convenient office locations to choose from in the Orange County area: Laguna Hills, Irvine, San Clemente, Tustin, Foothill Ranch, and Mission Viejo.
We are affiliated with the Women's Hospital at Saddleback Memorial Medical Center, the Surgical Center at Saddleback, and the Mission Hospital Birth Center.
*Hoag deliveries coming 2021*
Better Together. We are proud to partner with The Women's Hospital at Saddleback Memorial to provide our patients with the best care possible. Serving the community for 25 years, the hospital has been the birthplace of over 60,000 babies.
The Basics and Beyond. Each of the hospital's newly renovated private LDRP suites is designed to provide a calm, nurturing environment. And to ensure your comfort and care, anesthesiologists and neonatologists are available 24/7.
Expert Care for the Tiniest Patients. To give you peace of mind when you need it most, the hospital offers an on-site level III Neonatal Intensive Care Unit (NICU) ready to care for infants requiring immediate, advanced care.
For more information about The Women's Hospital at Saddleback Memorial, visit memorialcare.org/saddlebackbaby or call 1-800-MEMORIAL.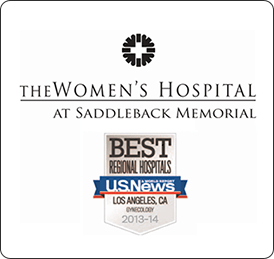 When you choose to deliver at The Birth Center's Midwifery Suites, you'll get hands-on encouragement from a certified nurse-midwife who guides you through a more natural birth. She is there to honor the birth plan you envision in a safe and personalized environment.
At Mission Hospital, we empower women by offering a full suite of birthing options, including natural birth in a homelike setting with our team of midwives. Through a special relationship with CHOC Children's at Mission Hospital, we are directly connected to CHOC's neonatal intensive care unit (NICU) for babies needing specialized care. And a team of newborn intensive care physicians and nurses are available to attend your birth if medically necessary. We are doula-friendly and provide compassionate guidance through your entire birthing process.